how to get started
Our Process for
Successful Business Campaign
01
Project Introduction
We learn from you about your business needs and demands using data.

02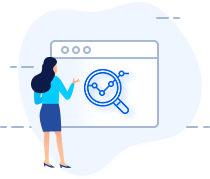 Research & Concept
Extensive research based on data analysis as we design a proof of concept.
03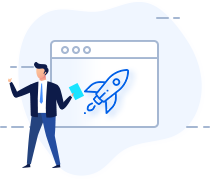 Project Execution
Executing your project for final launch is activated by our powerful team of experts.
Build your business
Dominate Your Competition with
Process-Driven Marketing
What is Content Marketing?
At their core, Content marketing is a form of marketing focused on creating, publishing, and distributing content for a targeted audience online.However, there is much more to keywords than just that.
Content marketing helps to improve conversions because it allows you to connect with and educate your leads and customers. Not only are you working to build trust and relationships, but you are also encourage conversions by giving consumers the information they need to make an educated purchasing decision.
What is Social Media Marketing
Social Media Marketing is the action of creating content to promote your business and products on various social media platforms such as Facebook, Instagram, and Twitter. Your unique content should be tailored to the specific platform it's being shared on to help you boost conversions and increase brand awareness.
With businesses looking for the best ways to reach their customers, social media marketing has quickly become one of the easiest and most cost effective options.
Mobile app development is the act or process by which a mobile app is developed for mobile devices, such as personal digital assistants, enterprise digital assistants or mobile phones.
For a user, the important of mobile application development is of great importance. Portability and ease of use make the usability of mobile applications extremely simple for audience with gradually less learning curve. Mobile applications send information to their customers using notification.
What is SEO Optimization?
Get millions of keyword suggestions organized by groups and subgroups implemented on your website SEO to best drive traffic. With Live Analytics we decipher the rankings that best trigger leads and result to your website. These components aid make our Market Strategy for business worth the campaign as we add more value to your business and website. All these happen in real time, and you can be more poised to evaluate the metrics.
SEO is important because it keeps the search results fair. The higher you rank in results pages, the more clicks and traffic your site will generate. SEO also improves user experience, making it more likely for customers to become repeat buyers. And SEO is cost-effective. With the rise and growing domination of mobile traffic, local search has become a fundamental part of small- and medium-sized businesses' success.
Web development is the work involved in developing a website for the Internet or an intranet. Web development can range from developing a simple single static page of plain text to complex web-based internet applications, electronic businesses, and social network services.
Web development services help your company to increase product knowledge, maintain communication between you and potential clients, sell your products or services, generate leads for the business, and increase the popularity of your company and much more.
PPC stands for pay–per–click, a model of internet marketing in which advertisers pay a fee each time one of their ads is clicked. It allows advertisers to bid for ad placement in a search engine's sponsored links when someone searches on a keyword that is related to their business offering
By displaying your ads in the most relevant online places, your ads are displayed to the most specific target market. Since in PPC you only pay when your ad gets a click. Advertisers love PPC advertising because it allows them to make the key change in the optimization strategies to improve the Quality Score.
choose your plan
Flexible Pricing Plans
We have experience working with large and small businesses and are ready to
develop a targeted strategy and plan that's just right for you.
Standard
$ 69.99
Monthly Package
Social Media Marketing
2.100 Keywords
One Way Link Building
5 Free Optimization
3 Press Releases
Choose Plane
Economy

$ 79.99
Monthly Package
Social Media Marketing
3.100 Keywords
One Way Link Building
10 Free Optimization
5 Press Releases
Choose Plane
Executive

$ 89.99
Monthly Package
Social Media Marketing
5.100 Keywords
One Way Link Building
15 Free Optimization
10 Press Releases
Choose Plane